A CPA must demonstrate professional competence by meeting high educational standards and by successfully completing a difficult three day examination. Generally, it also takes at least two years of work experience before a candidate can become a CPA.

Jerry is a member of the American Institute of Certified Public Accountants and the New Hampshire Society of Certified Public Acountants. He meets the state requirements for continuing professional education and has maintained the required number of hours of continuing education to allow him to conduct audits under the provisions of OMB Circular A-133.
The firm has been recently reviewed by an independent accounting firm to assure quality control for the accounting and auditing process. The review was conducted in accordance with standards established by the Peer Review Board of the AICPA. Vachon, Clukay & Company PC states that the firm meets the requirements set forth by the AICPA. Click on the link below to see the review letter.
The State of New Hampshire Board of Accountancy approved Jerry D. Karcher to practice as a Certified Public Accountant on February 22, 1989. Mr. Karcher passed the two and one-half day exam on his first try and was ranked sixth in the state in May 1986. He has attended over six hundred hours of continuing professional education and earned a Certificate of Educational Achievement in personal financial planning.
Jerry was born and raised in Ohio and attended Bowling Green State University in Bowling Green, Ohio earning his Bachelor of Science degree in three years. He then moved to New Hampshire where he attended the University of New Hampshire in pursuit of his Masters degree. Upon deciding to sit for the CPA exam, he attended McIntosh College in Dover, New Hampshire where he earned an Associate Degree in Accounting in nine months.
Jerry resides in Rye and spends his downtime running, kayaking, paddle boarding, boating and skiing.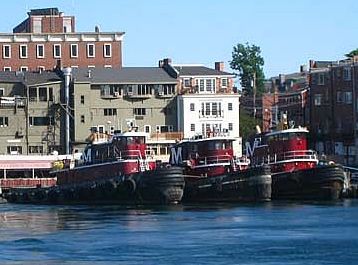 Jerry at Medicine Bow Peak
Julie joined the firm in December, 2008 as a Staff Accountant. She is an experienced Senior Mortgage Loan Officer and brings sixteen years of mortgage experience to the firm.
Mrs. Burns graduated from New England College with a degree in Accounting in 1996. She spends her free time with her family at their lake house in Naples, Maine.
Julie Burns, Staff Accountant
To email Julie, click on image
To email Jeff, click on image
Jeff started at the firm in January, 2009. He is continuing his accounting education and will be studying to practice as a Certified Public Accountant.
Mr. Karcher graduated from The Ohio State University in Columbus, Ohio in 1982 with a bachelor's degree in Electrical Engineering.
Jeff Karcher, Staff Accountant